Category Archives:
University Portraits
We were contacted by the Editor from Occidental College magazine from L.A. to photograph one of their alumns who is now an award winning Master of Science student at Carnegie Mellon University.  Even though we are very familiar with CMU's campus, we wanted to find a location that was both really cool and also out of the way.  So we packed up the camera and took a beautiful spring morning to scout. We found many unique areas around campus and after sending the scout pics off to the
editor, we all agreed on a location for the shoot.
This location had tons of available light, but we wanted a little more control over the quality.
We also wanted to keep the setup small and tight since we were in a public area.
We used flags to keep most of the available light off of Juan and then lit him with
a single medium softbox on a battery powered head. Juan was awesome!  The magazine
was happy and we ended up with many great shots, it was hard to choose a final.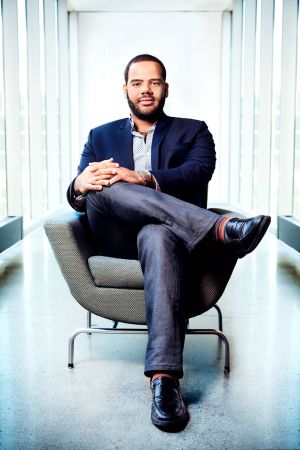 Ahhh.. Spring. A much welcomed sunny and warm day in Pittsburgh found us photographing undergraduates around campus. On this assignment, we were asked to photograph four separate students, each at two different locations. The art director and I scouted a few locations in the morning while the crew unloaded the gear. The cool part about this job was after nailing down a few key locations to shoot, we still found different location options as we went through the day. Knowing we wanted to provide our client with a lot of options, it was important to have a crew that could keep up. A great crew plus talented art direction equals awesome shots! A few of our favorites are below.